TechMed Charts is a major supplier of Medical, Industrial and Marine recording charts.
With over 60 years' experience in industrial and medical markets in the UK and with our European CE-certified manufacturing partnership we can offer our customers high quality products and excellent service giving customers the benefit of our vast knowledge in the market. Our modern warehousing facility is strategically based in the South East of England with easy access to major transport links to all parts of the UK, Europe and beyond.
TechMed Charts' Products:
Medical Chart Papers, Gels and Accessories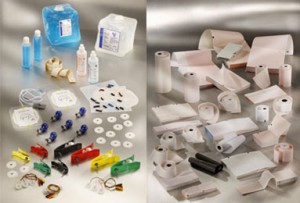 We supply medical and laboratory recording charts and accessories for patient monitoring, birth control, clinical investigation and many other applications within the medical industry. Archival-grade paper is also available on request.
Our medical recording charts play a key role in a number of different areas of healthcare provision: for monitoring x-rays and ultrasound, in cardiology, urology, ophthalmology, and in A and E departments.
With the support of our European CE certified manufacturing facility, we are able to supply NHS trusts, private hospitals, ambulance services, clinics, surgeries, Original Equipment Manufacturers, Medical Distributors and Wholesalers throughout the UK, Europe and the rest of the World.
Veterinary Charts, Gels and Accessories
TechMed specialise in the supply of high quality recording products and consumables used in veterinary practices and educational groups throughout the UK and Europe.
Read about our veterinary supplies here >>
Industrial Charts and Accessories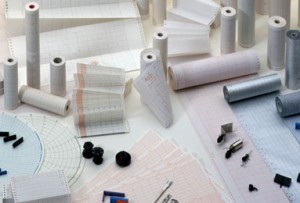 TechMed Charts are able to supply an extensive range of recording chart products, writing systems and associated accessories at competitive prices.
Our charts and inks are used for process control in a number of different industries, including:
Oil & gas, Marine, Aerospace, Dairy, Abattoirs, Distillery, Environmental laboratories and research, Food processing, Forensics, Pasteurisation, Pharmaceuticals, Steel, Automotive, Temperature measurement and Waste & water controls.
We can supply to industrial distributors, end users and original equipment manufactures (OEMs) around the World.
Our Products
Suppliers of Industrial Charts, Pens, Inks & Writing […]

High Quality Medical Recording Charts, Video Papers and Gel […]
Latest News
29 November 2013

Sensitised Coatings have retired from business after what has been a long career in the market as producers of coated and plain recorder charts...

9 April 2013

We are video imaging papers, ultrasound gel and ECG specialists TechMed Charts and Gels for Vets
Latest Tweets