Medical Recording Charts, Gels, Inks and Accessories
Specialist Medical Recording Chart Suppliers
TechMed Charts specialises in the supply of medical and laboratory recording charts for patient monitoring and research.
TechMed Charts supplies NHS trusts and private hospitals with a range of medical recording charts and consumables from its head office in Kent, South East England. We distribute our medical charts and other products worldwide.
High-Performance Medical Products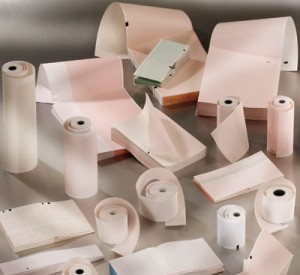 Our medical product range includes high-performance ink writing, thermal and electro-sensitive medical recording chart papers, as well as video papers for use with a wide variety of patient-monitoring applications.
Many of our papers can be supplied using specialist archival-grade paper, offering a guaranteed image life of 25 years when following the specified storage conditions. This is particularly useful for a patient file needs to be accessed and reviewed at a later date.
We can also supply you with a number of other associated products to back up our essential range.
Associated products include: gels, belts, storage wallets, disks, tapes, electrodes, as well as video imaging paper, monitors and printers.
Contact TechMed Charts direct for more information on our medical charts and related products.
Specialist Supplies for Veterinary Clinics
We also supply Gels, Video Imaging Papers and ECG Consumables for veterinary clinics. Click here to download our leaflet for vets.
Order Medical Products from Stock
We are able to provide our customers with superb service and quality products from our Kent warehouse.
We understand that it is important to have sufficient stock available to deal with our customers' needs and to cover scheduled and call-off orders, as this offers additional price and logistical benefits. TechMed Charts have thousands of high-turnover products permanently available from stock, so our clients have no issues of availability.
We can ensure that our plain and printed thermal recording chart papers are available for call-off or standing orders to cover some or all of your recording papers as required.
Once again, contact us to find out more about how we can help with your existing processes through our flexibility and commitment to customer service.
Our Personalised Design Service
We can design products for you, and are able to offer our customers the ability to design products for their own specifications or with any other modifications  required. We offer full CE and ISO9001:2008 accredited products through our European manufacturing facility.
We can customise our products with your company's own branding, name or logo if required.
Our After-sales Support
On-site support is provided by experienced professionals; while our office-based sales and customer service department takes care of all your day-to-day requirements.
Examples From The TechMed Charts Medical Product Range

Thermal Medical
Recording Papers
We can supply you with the full range of patient monitoring papers to fit recorders used in various areas within the NHS including ECG, CTG and fetal monitoring.
Popular charts include:
9402-020 – to fit Marquette recorders
M1709A – to fit HP recorders
M1911A – to fit HP fetal monitors

Ultrasound and Cosmetic Conductive Gels.
We are able to supply a full range of Gels, including, Ultrasound, Sterile Ultrasound and IPL in various sizes for use in many medical and cosmetic procedures.
Ultrasound and IPL gels are available in 250ml and 5 litre containers, our sterile gels for use in theatre are available in 20g sachets.
Our Products
Suppliers of Industrial Charts, Pens, Inks & Writing […]

High Quality Medical Recording Charts, Video Papers and Gel […]
Latest News
29 November 2013

9 April 2013

8 April 2013
Latest Tweets